Activity report from BBHC staff
BBHC
August/Sept Report
Medical Relief Activities
Our mobile team continued to operate in 4 locations in Dagon Township* during August and September on bi-weekly basis. A total of 1525 patients were seen during that period. Our team treated acute illnesses and a larger number of chronic diseases most prominently hypertension (high blood pressure). We have recruited 2 nurses as new staff members, one solely dedicated to giving health education.
We found Hypertension in these poor communities as the one condition of highest prevalence (19.5%) amongst any other conditions. Specific efforts, targeted on reducing its incidence and preventing complications have been implemented, such as providing free anti-hypertensive medicines, health education given one-on-one as well as groups on life style change especially dietary changes, the importance of continuing medical treatment for control aided by pamphlets and posters designed by our own staff physicians.
Two medical relief trips were made to a village* in Dedaye Township in May and June. We found then that hypertension was prevalent there also in keeping with the observations made by many other medical relief groups. Since then we have been supplying anti-hypertensive medicines for the patients in that village on a monthly basis. Another trip was made during our most recent visit during which all the known hypertensive patients were seen and their medications reviewed and adjusted and a few more patients with hypertension were identified. An automatic blood pressure measuring machine was left for the village. Two volunteers were selected who were taught the use of the machine and proper record keeping. Out team in Rangoon will review the information and adjust treatment as necessary.
We believe that our continued presence is necessary and will make a direct positive impact on the four locations where our mobile team is making fortnightly visits. Therefore, we will continue our current activities but in lesser frequency of monthly visits indefinitely until a better solution or permanent BBHC regular clinics can be set up in these locations.
The biggest challenge of setting up permanent clinics is their remote locations. Each location is approximately 60 minutes from Rangoon city center by a private car.
The total cost of running the mobile team for August and September was MMK 2,273,997.00 (US$ 1980) which covered salaries, transportation, medicines and laboratory tests.
From May 7 to end of September, our mobile team has seen and treated 6263 patients.
Recovery activities

Orphanage project
BBHC provided US$ 2,500 for general expenditure for the Orphanage at a Monastery* in Kunchan Gone.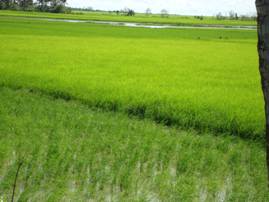 Farming Project
BBHC distributed 1257 bags of fertilizers to 235 farmers in four villages* in Dedaye Township through a low-interest loan program. We are happy to report the successful growth of the monsoon crop in these villages as witnessed during our medical relief/assessment trip in October.
The expenditure for the above project was MMK 36,720,210.00 (US$ 31,930).
BBHC also donated MMK 600,000.00 (US$ 521) for purchase and distribution of 50 bags of rice to a Dedaye village*.
Future Plan
We will continue our mobile team visits to Dagon Township as our permanent BBHC activity.
We are currently in the process of supplying farmers in the same villages* in Dedaye Township with threshers and trailers needed after harvesting.
We are also continuing with our search for the most needy cyclone victims to support, E.g. farmers who were unable to plant the monsoon crop or asset-less groups such as fishermen who lost their boats and nets or women who lost their husbands hence the breadwinners.
Acknowledgement
We would like to thank our generous donors, organizations and individuals, as well as all our partners and close friends inside and outside Burma whose contributions have made our efforts possible. We would especially like to thank Cetana Educational Foundation, MBEAN, Searchers-Myanmar, BMA-NA, BMAA/AMIM and Direct Relief. We sincerely hope to receive your continued support.
Donations and Expenditures to date
Donations
US$173,940.00
Expenditures
Medical Relief
US$15,684.00
Emergency Relief Supplies
 US$27,161.00
Recovery projects
     Farming
           Power tillers
US$48,785.00
           Fertilizers
US$31,930.00
           Embankment
US$9,000.00
Orphanage
US$51,000.00
Total Expenditure
US$137,660.00
Balance
$36,280.00